If you live in a certain area and subscribe to a plan that includes a regional sports network (RSN), your subscription may be subject to a monthly regional sports fee. The fee amount is based on your location and may vary from customer to customer.
Currently, this fee is applicable for accounts that receive a regional sports network(s) in the following areas:
Pittsburgh, PA and surrounding areas
Houston, TX and surrounding areas
New York City/Buffalo/Rochester, NY and surrounding areas
New England
Chicago, IL and surrounding areas
Washington/Oregon and surrounding states
Utah/Nevada and surrounding areas
Colorado/Kansas/Nebraska and surrounding states
Select an option below for more information:
In order to continue bringing you the best in sports programming, if you subscribe to FuboTV and are in one of the areas mentioned above, the Regional Sports Fee will be included on your bill.
The amount of this fee may vary depending on your area.
Check Am I subject to a fee? below for how to locate any regional sports fee you may be subject to in your area.
If you receive more than one RSN in your area, your account will only be charged one regional sports fee.
No. If your account is subject to a Regional Sports Fee, it will be automatically applied to your bill.
Current Customers:
You can check for any applicable RSN fees by logging in to your account and navigating to your Manage Plan page. The My Subscription box will detail your current plan and show any fees you are subject to under Taxes, Fees, and Surcharges.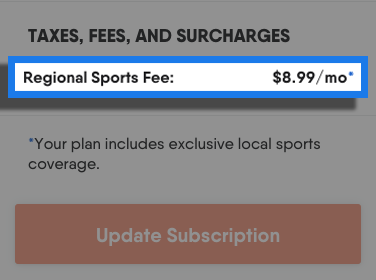 The Regional Sports Fee shown above is an example. The actual amount of the Regional Sports Fee you are billed may vary depending on your region.
New Customers:
If you are subject to a Regional Sports Fee, you can find this during the signup process. Once you create an account and select a plan, the amount will be displayed prior to checking out.