Welcome back! We missed you!
For details on how to reactivate your fuboTV subscription, choose an option below:
If your subscription has been scheduled to cancel but has not yet been terminated - meaning you can still access fuboTV and view programming - start by logging in at fubo.tv, then head to My Account
Select Subscription & Billing
Finally, select Reactivate from the reminder at the top of the page

Your subscription will be reactivated immediately.
Please note:
Your billing cycle date will remain the same as it was prior to scheduling your subscription to cancel
Any add-ons you've included in your subscription will remain on your account
All of your settings and personalizations, including favorited channels/shows and Cloud DVR recordings, will still be available
Please note:
You will not receive a free trial when reactivating a terminated subscription
You will be billed immediately for the full amount of your chosen plan, plus any applicable taxes and fees
The date you reactivate your subscription will be your billing cycle date for all subsequent billing cycles
To reactivate a fuboTV subscription that has been terminated - meaning you no longer have access to view programming on fuboTV - start by visiting fubo.tv and signing in with the email address and password from your previous subscription.
On the Welcome Back page, you'll see a breakdown of your previous subscription.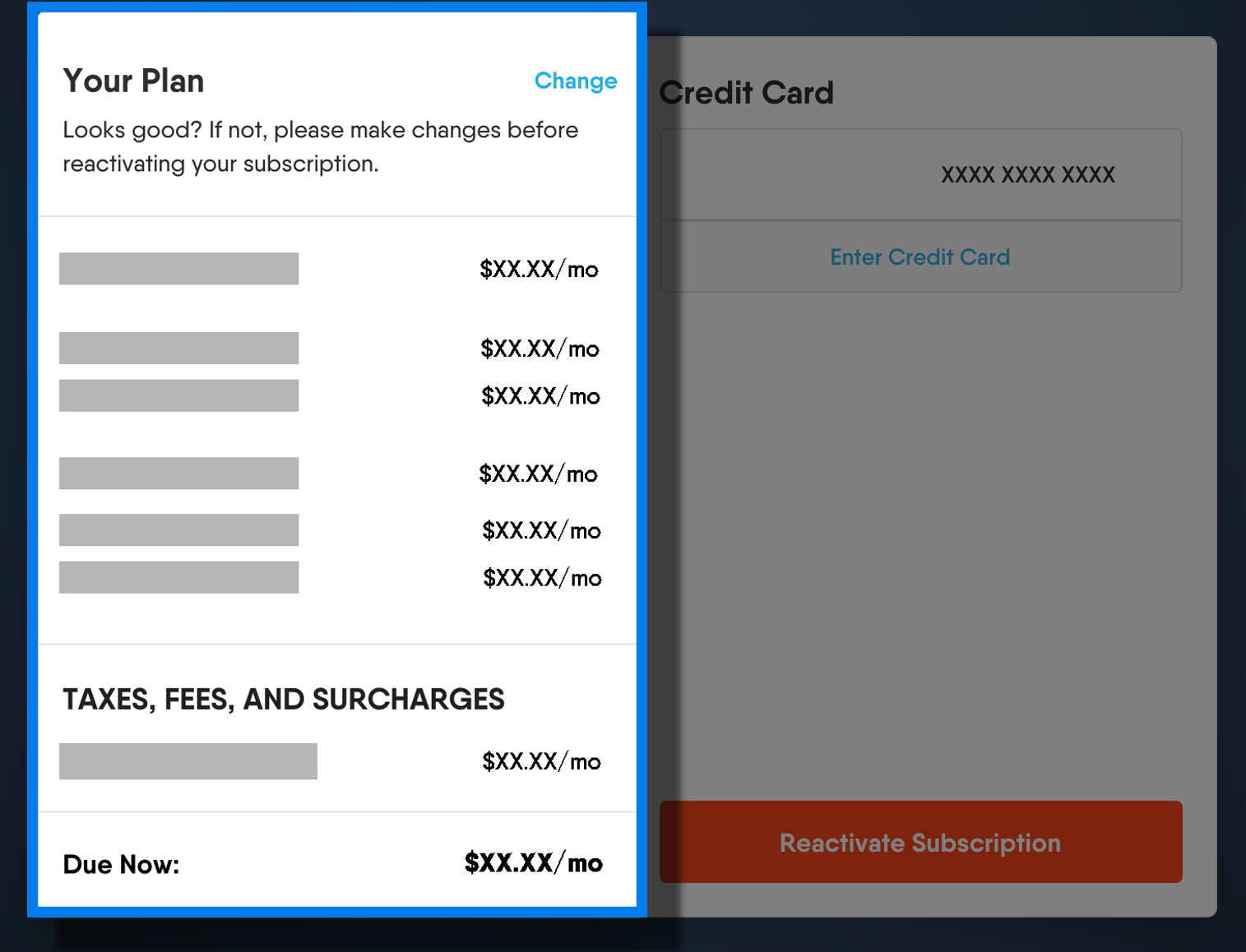 Review your plan to make sure everything looks good, and if you're ready to reactivate, select Reactivate Subscription to restart immediately.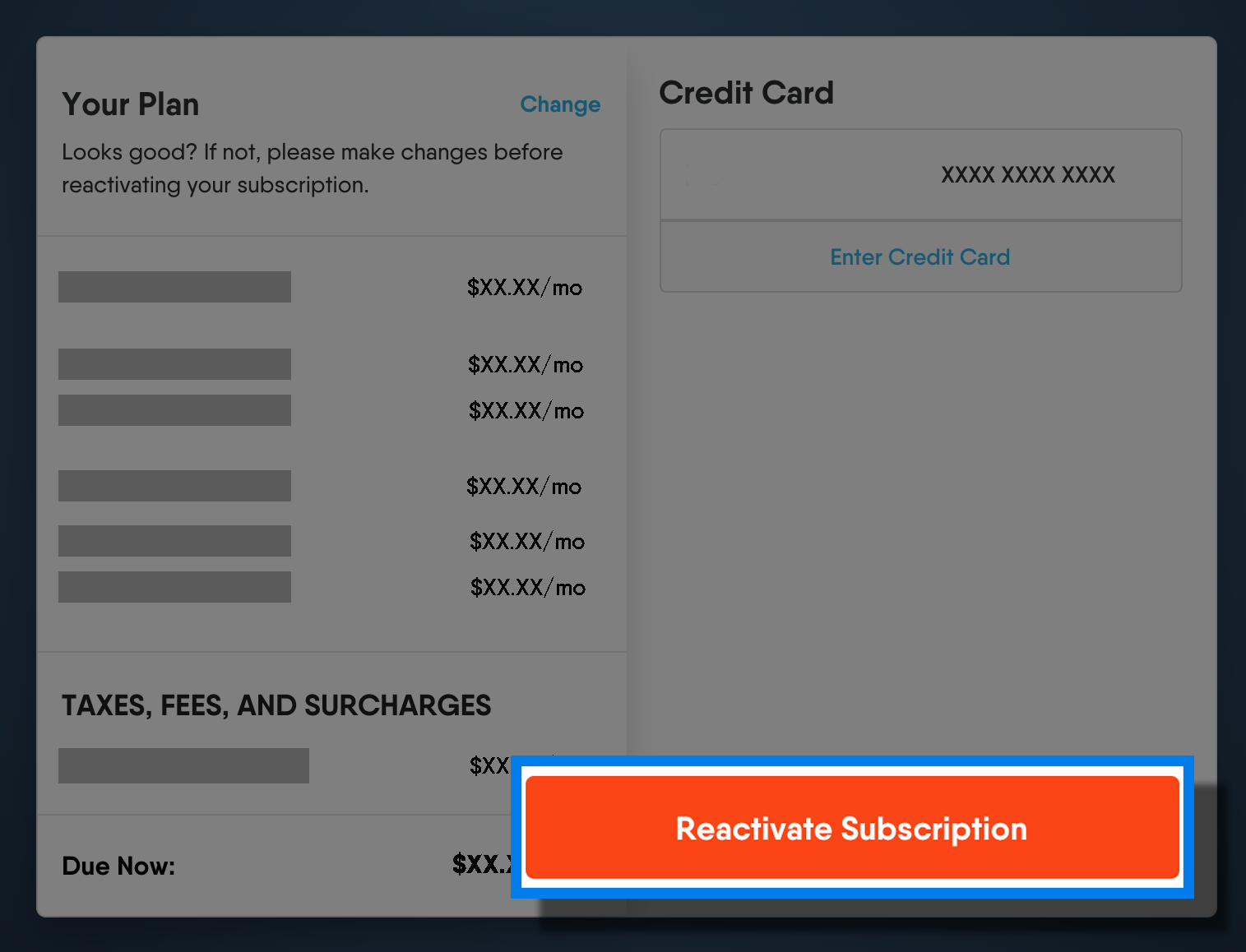 If you'd like to reactivate with a different plan, choose Change.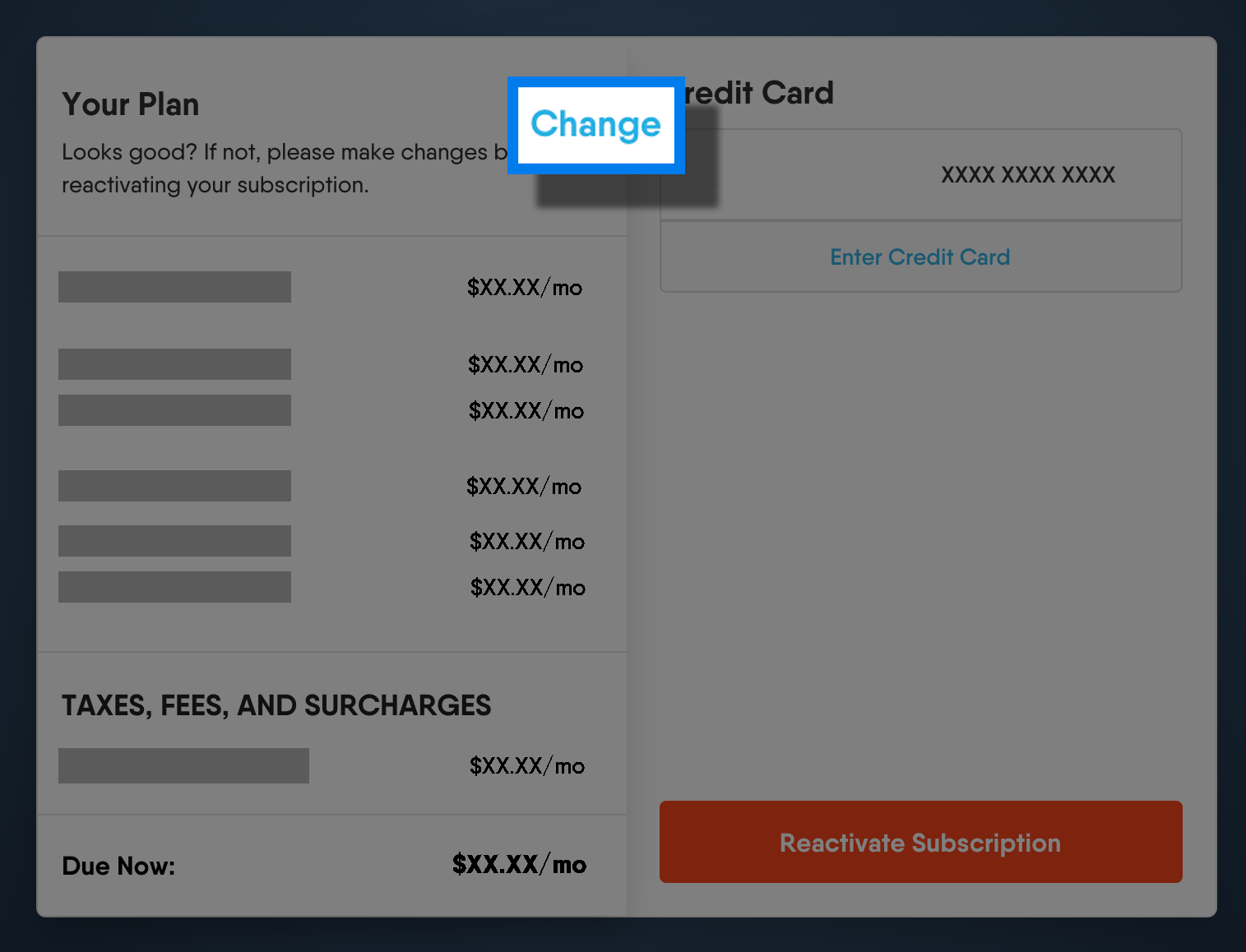 Review the available options to find the plan that works best for you, then select Choose this plan.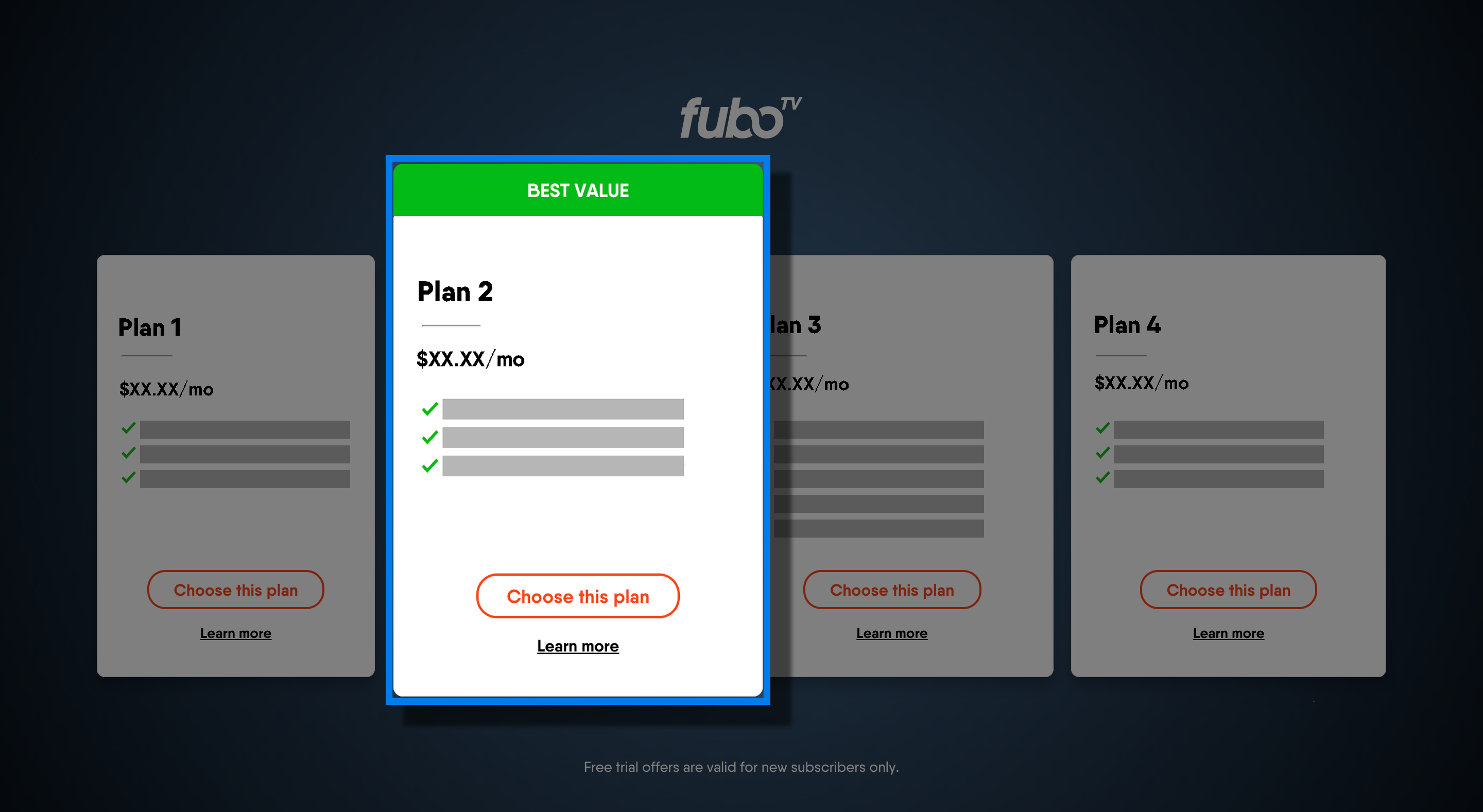 Note: In some cases, the plan you subscribed to previously may no longer be available. Choose Select a plan to review and select a new plan.

If you'd like to link a different credit or debit card to your account, select Enter Credit Card.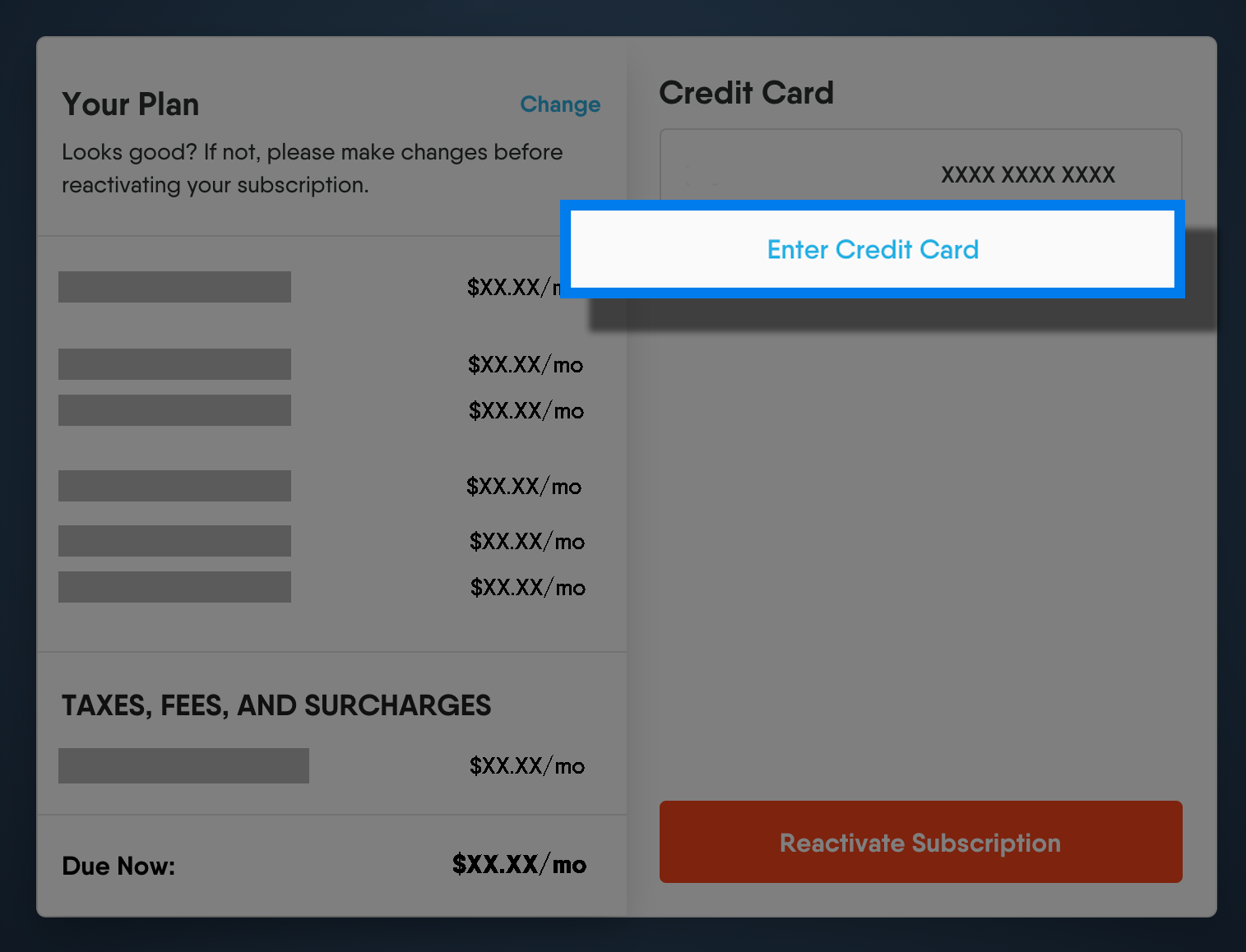 Enter the details of the new card, check the box to confirm you have reviewed the Terms of Service, then select Reactivate. If you change your mind and would like to keep the current card linked to your account, hit Cancel.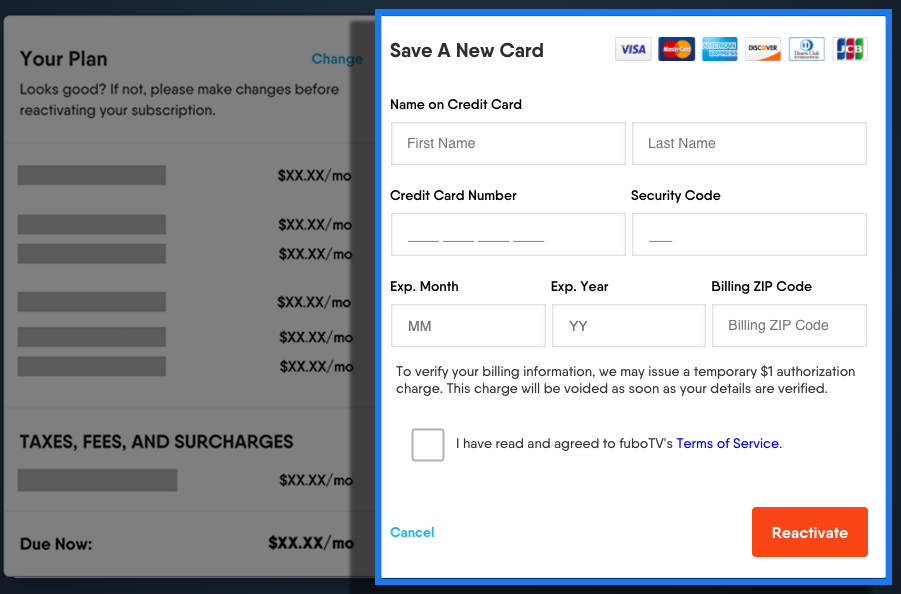 What about add-ons?
Once your subscription is reactivated, add-on packages not included in your new subscription can be added from the My Account page when you log in at fubo.tv. Choose Manage Add-ons to review available add-on packages.
Find additional help here.
To reactivate a subscription billed through Roku, you can either visit your subscriptions page on my.roku.com or reactivate through your device.
Visit Roku Support for more information.
You can also reactivate your terminated Roku-billed subscription by logging in at fubo.tv and entering your email address and password. Follow the steps listed above for reactivating a canceled subscription, and enter a credit or debit card to reactivate your account.

Please note that once reactivated, your subscription will be billed by fuboTV instead of Roku.